Banana Pudding
By Mandy Harris
Ingredients:

1 Box Vanilla Wafers
1 large box instant vanilla pudding
3 cups cold milk
10 – 14 bananas
2 small Cool Whip
1 can Eagle Brand sweetened condensed milk
3-quart serving dish

Instructions:

Cut bananas. Mix pudding with 3 cups of cold milk and let sit 3 minutes. Add Eagle Brand milk and one Cool Whip. Mix and let sit 5 minutes.

Put in the serving bowl a layer of bananas, then a layer of vanilla wafers, then a layer of pudding (1/2 of the total mix). Put in a layer of vanilla wafers, then a layer of bananas, and then the rest of the pudding. Put a thin layer of cool whip on top. Crumble extra vanilla wafers and put on top.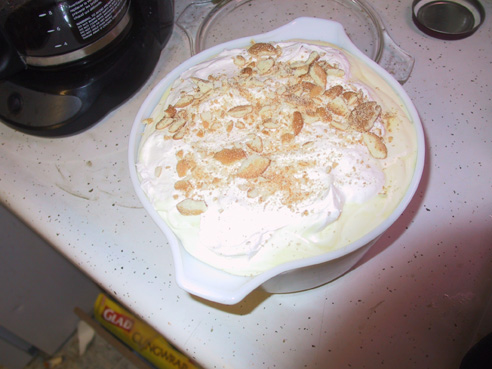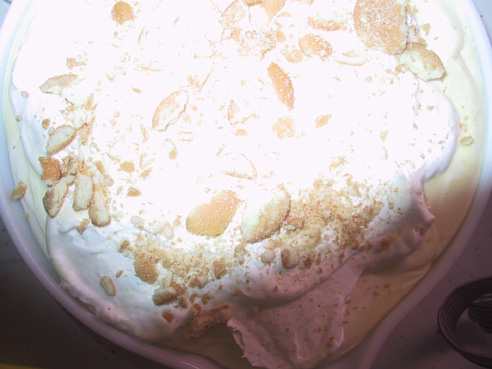 Banana Pudding by
David Darragh
David Darragh's Banana Pudding
Ingredients:
4 cups sugar
3 tbs flour (heaping)
2 tbs corn starch (heaping)
1/2 tsp salt
5 cups milk
1 can canned milk
6 egg yolks
6 egg whites
1 tbs salted butter
1 tsp vanilla extract
Mix the sugar, flour, corn starch and salt in a large glass bowl. Wisk to mix well.
Add the milk and canned milk and mix well. Cook on high in microwave for 6 minutes. Stir well and cook another 6 minutes on high. Stir well and cook another 4 to 6 minutes. Hot pudding mixture should start to thicken some.
In another mixing bowl, beat 6 egg yolks well. A 2 tablespoons of the hot pudding mixture to egg yolks and stir well. Add 2 more tablespoons of hot mixture to egg mixture and stir well.
Now slowly pour egg mixture while continually stirring to blend egg mixture into the large bowl of hot pudding.
Cook in microwave for 8 minutes. Stir and cook in microwave additional minutes until pudding begins to look thick and bubbly. Add and stir in one tablespoon salted butter and 1 teaspoon pure vanilla extract.
Let cool completely and then assemble bananas, cookies and pudding in layers. Top with meringue made from the egg whites.
Meringue recipe from: http://www.incredibleegg.org/cooking-school/eggs-baking/make-hard-meringue/
Ingredients:
3 EGG WHITES, room temperature
1/4 tsp. cream of tartar
3/4 cup sugar
1/2 tsp. vanilla
BEAT egg whites and cream of tartar in mixer bowl with whisk attachment on high speed until foamy.
Beating constantly, ADD sugar, 2 Tbsp. at a time, beating after each addition until sugar is dissolved before adding the next. (Rub a bit of meringue between thumb and forefinger; it should feel completely smooth.) Continue beating until whites are glossy and stand in stiff peaks. BEAT IN vanilla.
Creamy Banana Pudding
by T L Newman

* Servings: servings
* Serving Size: 10
* Prep Time: 15 Minutes
* Cook Time: 0 Minutes

Ingredients

* 1 (14 oz.) can Eagle Brand® Sweetened Condensed Milk
* 1 1/2 cups cold water
* 1 (4-serving size) package instant vanilla pudding mix
* 2 cups (1 pint) heavy cream, whipped
* 36 vanilla wafers
* 3 medium bananas, sliced and dipped in lemon juice

Instructions

* Whisk sweetened condensed milk and water in large bowl. Add pudding mix. Whisk 2 minutes or until well blended. Chill 5 minutes. Fold in whipped cream.
* SPOON 1 cup pudding mixture into 2 1/2-quart glass serving bowl. Top with one-third each of the vanilla wafers, bananas and remaining pudding. Repeat layering twice, ending with pudding mixture.
* CHILL thoroughly. Garnish as desired.
* For individual pudding desserts, prepare mixture and layer in dessert dishes.